So the day after the amazing melt tank party. I went on holiday - well that is how I viewed it. Officially I think it is supposed to be field training but as we don't have to do our normal jobs I think it's more of a holiday. We all get two winter trips every year. The pre-winter trip is for 5 days and the post winter trip is for 10 days. There are 15 normal winterers and the G.A.. Our Field G.A. (General Assistant) is Simon and he's really the guide for all the field trips off base. The rest of us winterers were then split into 5 groups. There are certain rules in who can go on holiday together so that the base can cope without missing too many Met people or be left without anyone who can fix the generators. It turned out that I got picked to go in the first group. Traditionally the groups are called sledges and our sledge being the first was called Sledge Alpha. The members of Sledge Alpha were Liz the carpenter, Kirsty (Metbabe), Simon the field GA and me. All the pre-winter trips tried to head to 2nd Chasm (see map below), an area in the Hinge zone which is interesting because its very churned up ice and contains loads of interesting crevasses. As I mentioned before Halley is not on the Antarctic mainland but is actually on the Brunt Ice shelf, a floating chunk of ice that is stuck to the Caird coast. The Hinge zone is the area where the ice shelf joins the continent proper and as the ice flows off the mainland its churned up forming crevassed areas. Occasionally there are massive calving events where huge chunks of ice shelf break off. This is predicted to happen in the next few years and this is why Halley base is going to be moved to a new site and have a new set of buildings.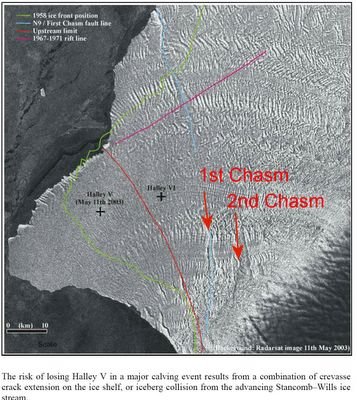 Map of the brunt ice shelf. Halley V is marked by the left hand cross. The proposed position of the Halley VI is shown by the right hand cross. Our winter trip was at 2nd Chasm. The map was modified from a map used in the Halley VI proposals.

When the last major calving event happened it moved nearly the whole ice shelf and opened up a few massive cracks in the hinge zone, in these cracks there was the sea and this then froze over and left the chasms that we go playing about in.
So we prepared to go off on our holiday. We actually didn't get off on the first day. When you leave base here you have to carry a massive amount of gear. You need to carry a "full unit" between two of you. A full unit consist of two nansen sledges (wooden sledges designed by
the great norwegian explorer
), 16 jerry cans of fuel for the skidoos, 2 jerries of parafin, two man-food boxes (each containing 20 days rations for one person), medical box, HF radio, Pans box, inside tent box, inside food box, two pyramid tents, P bags (bags full of fantastic bedding including the warmest sleeping bags ever, sheepskin rugs, thermorests, bag liners of various sorts) and then your personal stuff. It took us all day to get all the stuff together. We did get off the next day early in the morning, the first thing you notice when you travel any distance on a skidoo is how uncomfortable the throttle position is. You also freeze pretty quickly. When we got about 20 km from Halley we then linked up. This involved roping the skidoos together into pairs using a 30m rope, this means that if the first skidoo falls into a crevass the second one should be able to stop and stop the first one hitting the ground. We are also roped to the skidoos to prevent us hitting the ground in those circumstances. ~40 more kms (~60 km from Halley) we reached the campsite for 2nd Chasm.
360 degree of the campsite at 2nd Chasm.

The view of 2nd Chasm from the campsite.

We pitched up the tents and then went for a quick exploration of the wind scoup near the camp. It was during this little exploration that I fell into my first crevass. It was only a tiny one (an ankle biter) so I only went in up to my knee before I caught myself. In order to stop this happening we also walk around roped up, with aout 20 m of rope between us, once again this is so that the person who falls into a crevasse can be saved by the other person that they are roped to.
The campsite was pretty bleak but we brought enough things to make it comfortable. The tents are very good, are made of ventile (tightly woven canvas) which stops the wind. Inside you unroll your P-bags which are warm enough for you to sleep outside in but made extra warm in the tent. You then set about lighting your Tilley lamp and the Primus stove and pretty soon the tent is roasting. Of course you can also get carbon monoxide poisoning from burning stuff so we had a sensor that was going off all the time, and was probably the most annoying thing on the whole trip. Water is made by melting snow (dug from the clean snow area) and the food is pretty good and based on army rations. You things like biscuits brown and biscuits fruit. The loo is a red flag and the area around it designated as dirty. In fact we also brought a modifed pup tent as a loo tent. Pup tents are small emergency tents, and we brought one that was modified with a hold cut in the ground sheet. A loo seat made from a wooden box and some insulating foam finished off the luxury facilities. Having the loo in a tent made the whole experience a lot more pleasant and lessens the risks of exposure. The ladies also get issued with pee funnels so that they can go the loo without disrobing, maybe I will get one of them to explain it all.
Simon our guide and field expert demonstrates how to use the pee flag. There was also a dedicated loo tent with a loo made out of an old man-food box and pink insulating foam shaped appropriately. Luxury camping.

You get two people in each tent and I shared one with Kirsty which was great as she is pretty mad which makes things interesting. You spend a lot of you time in the tents sorting our bedding, melting water and refueling the lamp and stove, cooking and just chatting. We also spent a lot of time in the tents, one day we only spent a couple of hours outside because the weather was so bad. Spending time outside is cold if you stay still and knackering if you keep moving. You'd think that it might be boring being stuck in a tent but I really enjoyed it and am pretty sure I will enjoy more time in tents.
Kirsty sits outside our pyramid tent. This was the childrens tent. Liz and Simon shared the other grown-ups tent next door.

When we did get out we trained, learning how to: rope up, save people from crevasses using pulleys, use crampons, use ice axes, abseil down and jumar back up. And the best bit about the training is that it's for free in an amazing setting. Thats why this job is the best thing ever. It quite easy to forget that you are in an amazing place.
Kirsty and Liz at the back of an Alpine-four (all of us attached to the same rope) in Likijusi a mini chasm that we discovered.

Once we had learnt enough skills, Simon would then find something interesting like a crevasse (one of which seemed pretty big to me) and we would then go and explore it. So here are some photos of what it was like.
Liz waits at the bottom of a crevasse.

Kirsty abseils in to join us in the crevasse as Simon watches from above.

Me showing off my ice climbing skills. Photo courtesy of Kirsty.

Me lowering myself into a crevasse. I haven't fallen in! Photo courtesy of Kirsty.

Liz, Simon and me on then wind scoop ridge. In the background you can see the campsite. Photo courtesy of Kirsty

Simon, Liz and Kirsty moving along an ice ridge.

Sledge alpha enjoying a break and a snack.

Kirsty demonstrates her crampon and ice climbing skills.

Liz and Simon delve deeping into the crevasse.

All good things come to an end and so did our holiday. Having arrived at 2nd Chasm on sunday we left on thursday morning. Leaving took a few hours as you have to disassemble the camp. We then drove back the 60 odd km back to Halley.
The view from the back of the convoy. At this point we are travelling individually as we are getting close to Halley. In unknown areas we always travel as linked skidoos. This means that if a skidoo falls into a crevasse the other one can stop it reaching the bottom.

For some reason the journey back was a trickier than the journey out, mainly because the snow conditions had changed which meant that we kept on getting sledges tipping over. This always happened when going downhill as the sledge would catch up with the skidoo and then hit some sastrugi and flip over. I think we had to pick up sledges 5 times.
The first sledge that flipped over.

We made it back safely and I think all of us are looking forward to the next winter trip. They are so cool. So until the next trip we are essentially stuck on base. We might be able to get away to a caboose for a weekend but darkness is approaching fast and with it the cold.
Sledge alpha returns to Halley.